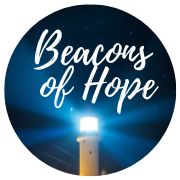 You and your colleagues touch so many lives each and every day and are a "beacon of hope" to all those around you. In the face of the pandemic, you have stayed strong, shining your light of courage and optimism brightly.  Many of you have colleagues who are your "beacons of hope" who motivate, encourage, and help you stay the course and get through another day. We would like your help to showcase some of your colleagues. If you have nurse colleagues who especially motivate you to keep your beacon shining brightly, we want to feature them here on our Beacons of Hope page, and in our upcoming MS RN newsletter. We think you'll agree that this is a great way to recognize and thank those special colleagues who are always there for you. 
Please send us a photo via email of your Beacon of Hope colleague (feel free to send multiple submissions), or a photo that includes the two of you together. Use the subject line "Beacons of Hope" in your email, and send to dinman@msnurses.org by February 17th. Please include your name and contact number, as well as the name and contact number of your Beacon of Hope. From the entries we receive, a special gift will be awarded to a Beacon of Hope and submitter. 
* By submitting photos, all parties agree to have the photo you submitted posted on the MNA website, and for the use of the name, portrait, picture or photograph as part of the Mississippi Nurses' Association events, activities, social media, and publications.