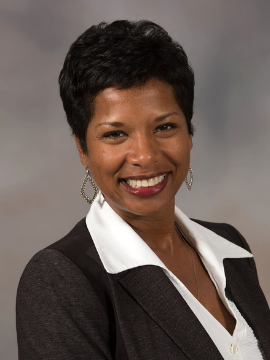 President
Tonya Moore, PhD, RN
Dr. Tonya Moore has 24 years of professional nursing experience, most of which has been in various roles at the University of Mississippi Medical Center (UMMC).  As executive director of leadership and workforce development at UMMC, Dr. Moore is responsible for directing the institutional workforce and leadership development program for faculty, staff and students in collaboration with the chief academic officer, chief faculty affairs officer and chief human resources officer.
Dr. Moore earned an associate degree in nursing from Alcorn State University, a bachelor's and master's in Nursing from the University of Mississippi, and a doctor of philosophy degree in Nursing Research from the University of Alabama at Birmingham.
Dr. Moore's talents and commitment to her profession have earned her recognition in several distinguished and respected organizations. Among those, she received the University of Alabama at Birmingham Nursing Alumni 2019 Jo Ann Barnett Award for Compassionate Care and the 2019 Myrlie Evers-Williams Minority Health Leader Award. Bestowed in 2019, she received national recognition as Best in Nursing Award of Excellence by the American Health Council. Dr. Moore was also recognized as a 2011 Up and Comer, one of 12 people in the United States chosen by Modern Healthcare magazine. In 2009, she was recognized as Nurse of the Year by University of Mississippi Health Care.